The SOLITEC® rope generation has been developed by TEUFELBERGER to offer our customers durable and highly flexible ropes. The sophisticated rope design of SOLITEC® steel wire ropes is based on a special manufacturing process. With this process, our technicians managed to exactly determine the initial elongation of the rope already in a very early phase of production, thus largely forestalling it.
SOLITEC® ropes from TEUFELBERGER are characterized by a plastic compound insert and support profiles resulting in major advantages.

The plastic compound insert
SOLITEC® ropes are provided with a braided and greased fiber core covered in a compact synthetic coat, which provides for a perfect roundness of the insert while ensuring supreme resistance to tensile forces. Therefore, the SOLITEC® insert cannot tear or break. Moreover, the cold strands are pressed into the plastic insert during the stranding process.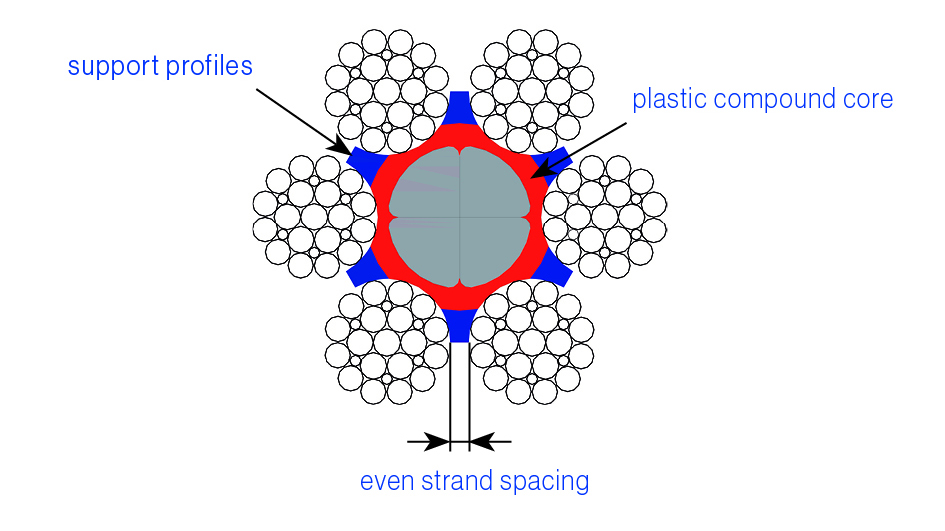 The support profiles
TEUFELBERGER is the only manufacturer providing its SOLITEC® steel wire ropes with preformed support profiles between the strands. This creates a perfectly even distribution of the strands in the rope and prevents the strands from touching one another. Thus, the consequences of such contact between the strands, like corrosion and wire breakage, are permanently avoided.
Vibration-dampening plastic support strands are used across the entire splicing zone. Thus the perfect and consistent quality without any weak spots is ensured over the whole length. In addition, the support profiles slide easily on top of the surface of the plastic compound core, which helps to increase the service life of the rope.
The precise dimensioning of the trapezoidal support profiles helps achieve as high a level of product consistency as possible. The profiles fully fill the spaces between the strands. This ensures low-vibration running characteristics and minimized noise. Furthermore, the annoying "settling" of the rope while leaving it to hang or letting it run in unloaded (empty) state is a thing of the past. Most of the initial elongation is already forestalled in the production process. However, a slight elongation of the rope that is required for the operator, e.g. for splice regeneration, will be available throughout the service life of the rope.

The technology of the SOLITEC® steel wire rope offers you the following advantages:
Excellent longevity
Very low elongation
Perfectly round rope geometry
Symmetrical strand distribution and permanent prevention of contact between the strands
Breakproof plastic compound core
Permanently greased fiber core without leakage of grease
High elasticity and flexibility
High dimensional stability under lateral pressure
Full splicing compatibility with Lo-Stretch® ropes

Wide range of applications
Our SOLITEC® ropes are suited for use in ropeway systems as well as in the field of underground mining. They can be used as hauling/carrying rope, as hauling/hoist rope and as drive rope.