When it comes to service and installation, Teufelberger-Redaelli relies only on the best - our in-house specialists. 
The provision of high performance steel wire ropes custom-tailored to your specific needs is a fundamental prerequisite for a lasting and successful business relationship. However, Teufelberger-Redaelli  also provides additional services that render the construction or upkeep of a ropeway system significantly easier.
We are your competent service partner and will provide you help and answers within 24 hours!
e-Mail: apptech@teufelberger.com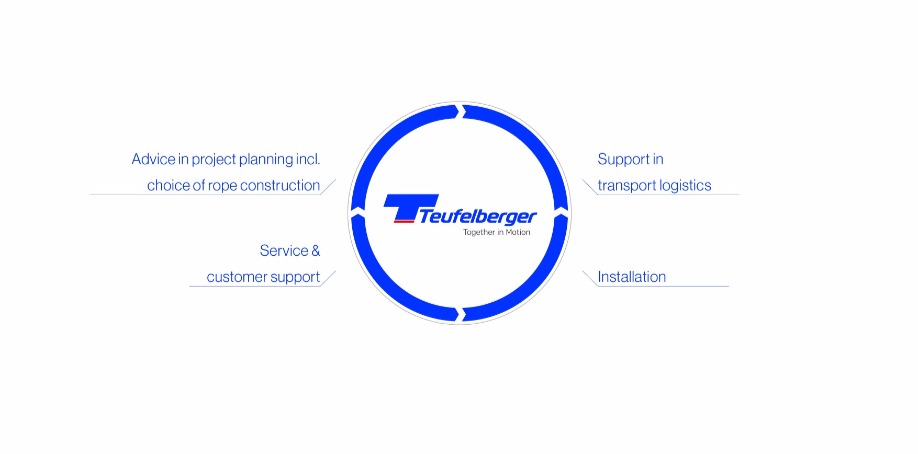 1.     We support you in project planning along with choosing the right rope construction. 
Teufelberger-Redaelli is a supplier of solutions. Already in the project phase, our rope experts can contribute their valuable knowledge on ropeway systems to the project planning.
In this context, defining the optimum rope construction is a decisive aspect providing for best possible running smoothness and a long service life and keeping unexpected additional costs at a minimum.
2.     We optimize transport logistics and support you in carrying out your heavy haulage
Teufelberger-Redaelli gets you to the top reliably and safely. Thanks to our decades of experience in transporting heavyweight rope reels, we are able to assist our customers actively and effectively in handling this very important part of the project. Therefore, we take care of the heavy haulage of your ropeway ropes, taking them up the mountain to the desired terminal.
On September 30 and October 1, 2015, we delivered the first four carrying ropes for the 3S Eisgratbahn ropeway on the Stubai Glacier, in cooperation with the transport company Spiegl. Four more carrying ropes and two hauling ropes followed in spring 2016. During the transport taking place in the fall, carrying ropes weighing 200 tons in total had to be taken to a sea level of 2300 meters, negotiating a gradient of approx. 30 %. For this heavy haulage a truck/trailer combination generating 1,800 HP was required.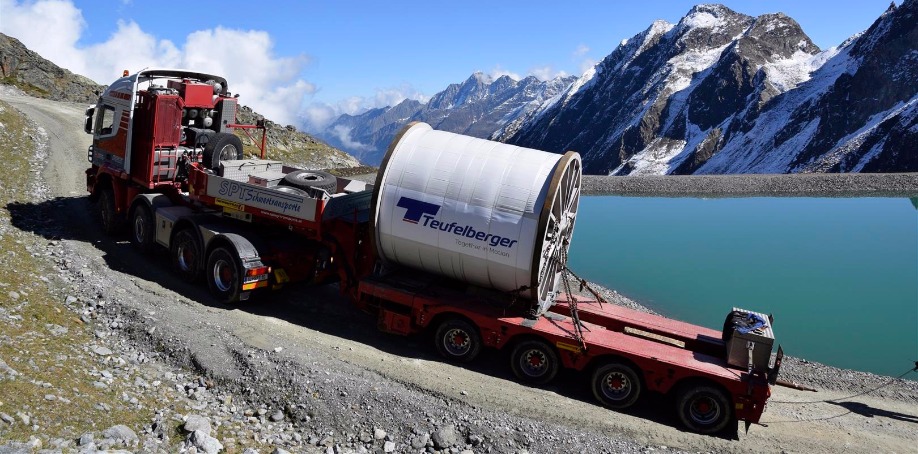 3.     We take care of installing the ropes 
We rely only on the best. Therefore, we have the specialists for installation jobs and operations right in our house. More than 600 installation assignments worldwide per year qualify us to perform the highly complex installation of ropeway ropes. Our large team of 7 fitters is at your beck and call around the clock. 
We install your steel wire ropes, such as:
Ropes for ropeways
Ropes for cranes
Ropes for indoor cranes
Ropes for offshore applications
Winch ropes, etc.
Pulling of the rope
In order to install carrying ropes, hauling ropes or carrying-hauling ropes in ropeway or gondola facilities, rope pulling is required. For ropes with diameters from 8.5 to 110 mm, rope pulling is carried out by ourselves or our certified rope pulling experts. Rope installations require the appropriate pulling lines, which are also included in Teufelberger-Redaelli´s product portfolio. For our pulling lines, please click here.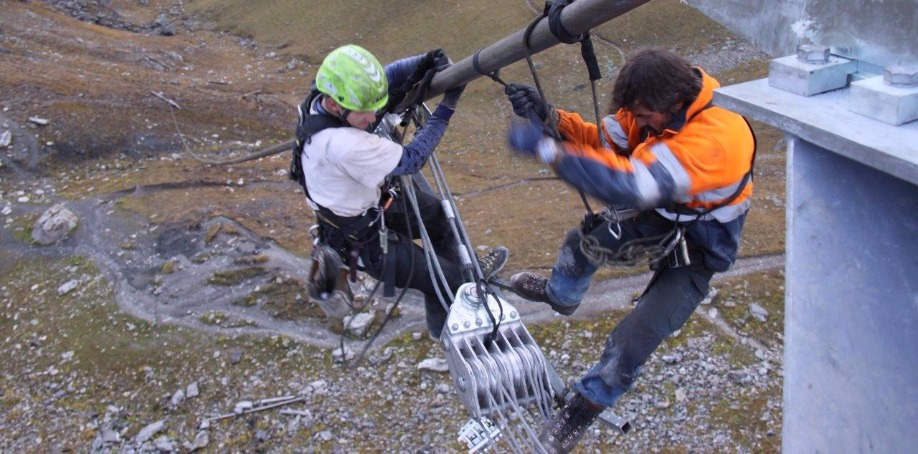 Tensioning
On tensioning, the rope is first pulled, then tensioned. Afterwards it can be spliced. Up to weights of 70 tons, tensioning is carried out by our Teufelberger-Redaelli fitters. Weights bigger than this are tackled by our professional partner companies for rope pulling on site.                                                                                                                                          
Splicing
We'll be happy to splice your hauling ropes and carrying-hauling ropes! Whether short splice or long splice, our fitters are on duty worldwide day after day, and they are real professionals in this domain.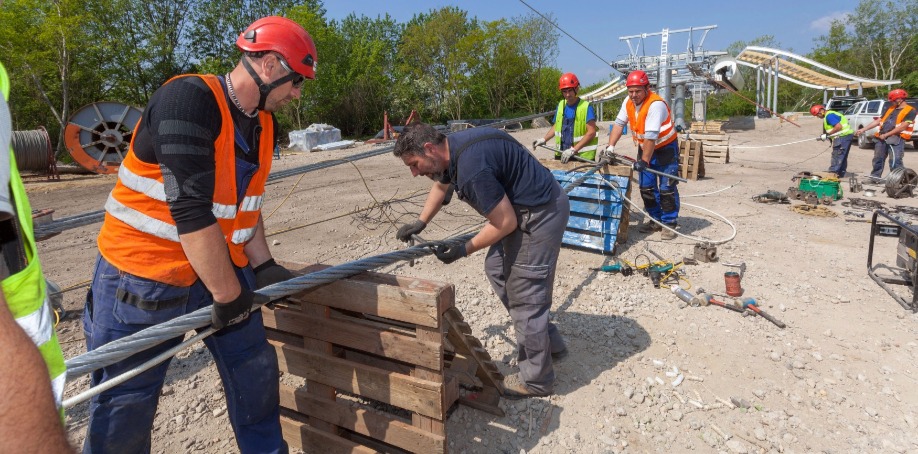 4.     Service and customer support
The damage appraisers and rope analysts from Teufelberger-Redaelli will answer any question about the condition of a damaged rope or a rope that has already been in use for a long time. Our experts offer competent advice near you. Our international team will answer your request within 24h for maintenance, repair and socketing work for ropeway ropes.
Maintenance and repair work
We inspect, assess and repair your ropes. 
We offer the following services:
Inspection, maintenance and repair
Assessment of the actual condition of your rope
Determination of the cause leading to a deviation from the desired condition
Deriving the necessary consequences for a trouble-free continued use
Repair where possible
Our maintenance and repair work includes the following activities:
Splice repair
Rope shortening
Repositioning of carrying ropes
Grinding and repair of ropes
Socketing work
We also perform socketing work.
We distinguish between two types of socketing:
Tego VG3 / TAMAG Z610 socketing: for ropeway ropes such as hauling ropes, carrying ropes (from 16 to 110 mm), and tensioning ropes
WireLog socketing: for crane ropes, shaft hoisting systems, offshore ropes, and indoor cranes