At Teufelberger-Redaelli we follow a consulting approach by assessing your current winder/hoist rope setup or getting involved in the early design phase of a project.
A hoist, balance, guide or shaft sinking rope is more than just a rope; it is an important machine component. It is critical not only for the productivity of the hoist but also for the safe use of such. Unfortunately, there is no such thing as a perfect rope. As a result, a rope is always a compromise of various rope properties, with the following factors to be considered.
application
system parameters
environment in which the rope is used
The challenge is to find the best compromise between the various rope properties so that the rope performance is optimized for the specific application and the given environment, resulting in a safe long rope service life and the best possible return on investment (maximum rope service life combined with minimized maintenance and downtime costs).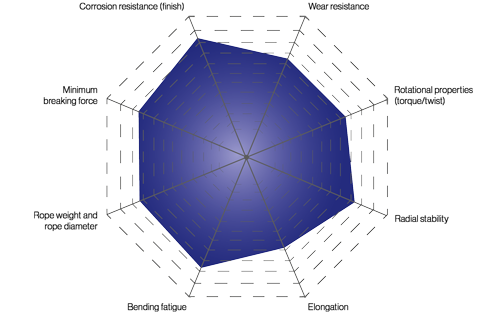 Together with our customers we aim to maximize the size of the blue surface by adjusting every single rope property while keeping your system parameters, and the operational environment in mind.
= Rope service life
We have developed our own calculation tools for drum and friction winders over the years so that we can base our rope recommendations on facts and figures. When combined with our systematic method of conducting case studies on our ropes installed, we are able to continuously learn and make better and better recommendations.

Interrested? Feel free to contact us via e-mail, telephone or the form below!
Our technical rope consulting for your underground mining project is completely free and without obligation.
E-mail:

harald.schoisswohl@teufelberger.com

- Telephone:

+43 664 885216 79