Your place to develop, create, and contribute your thoughts. We are not looking to just fill positions, but to recruit the right personalities.
What is the search for the perfect workplace really about? Perhaps about who offers the most benefits? A barista and a fruit basket? Or maybe about who passes the assessment center with flying colors? Or the psychological recruitment test? Is it about flexibility? The willingness to go the extra mile? Or the 4-day week? Work-life balance or high performance? Flashy job titles and opportunities for career advancement?
Impact & meaningfulness  
Our answer to these questions is: It's about the opportunity to make a mark, to actually see the significance of one's own work, and to have the chance to make things happen, to bring about change. This is the environment we would like to offer our employees. We believe that, for the perfect match, the chemistry must be right. We are not looking to just fill positions, but to recruit the right personalities. People who we can learn from and who are also willing to learn.
Teufelberger is a broad-based globally operating business enterprise that offers you many interesting work activities in a multitude of areas, at home and abroad. Even so, we are still small enough to maintain a very family-like environment, offer creative freedom instead of rigid corporate structures, have functioning short coordination channels, and focus on pooling our thoughts and getting things done.
This link will take you straight to:
In addition, this page also includes comprehensive information about: 
What you should know about Teufelberger. 
We are a seventh-generation family-managed business enterprise headquartered in Wels with 13 locations around the globe. The suspension ropes for the Westring Bridge in Linz or those for the world's longest suspension bridge in Çanakkale, the climbing ropes used to ascend the Eiger North Face, and the plastic strapping which securely holds parcels together: these are just a few examples of our products and use cases that have emerged in over 230 years of our company history. In total, we have 13 business units and about 1,500 employees. Therefore, we are looking for individuals who are just as multifaceted and intriguing as the industries in which our products are put to use. The name Teufelberger stands for a family-like and respectful work environment in which we keep on learning from one another, day after day. It also stands for the courage to reflect and the unwavering commitment to continue developing our innovative products. Do you want to know more?
Areas you can work in at Teufelberger 
We have three business divisions (Fiber Rope, Strapping Solutions, Wire Rope), with our so-called Group Services handling central tasks. For each of these divisions, we are constantly on the lookout for interesting individuals, which is why we welcome every application.
Professionals and managers for the following Group Services departments:
Purchasing
Finance 
Quality Management  
HR 
Marketing 
Professionals and managers for our business divisions
Sales 
Engineering 
Production
8 different apprenticeships in Austria
Opportunities for career starters
Opportunities for internships and theses
Which of our locations are looking to recruit new talent? 
We are an Austrian company with 13 locations around the world.
Czech Republic: Veselí
Poland: Karczew
Here you can find a list with all job vacancies. You can filter them by location


What benefits does Teufelberger offer?
Together, we want to offer a work environment in which employees will thrive for the long term and which allows for a healthy work-life balance. Consequently, we have a wide range of offerings for our team members, which are all part of the overall package from which you benefit when you join Teufelberger.  
Our benefits at a glance:

Modern work environment:
We are a family-managed enterprise, and you can certainly feel it. Communication as equals, a team spirit of mutual respect, and fun at work are not mere buzz phrases. We really live by these principles and, by doing so, create an ideal work environment for our employees.
Flexible working hours
Thanks to our flextime model and the possibility to work from home, our office employees are granted a high level of flexibility in organizing their workdays. This also includes the option to reduce the number of working hours as employees get older. We strive to respond to individual life circumstances and find the best solution for everyone.


Comprehensive health care package
The health of our employees is of particular importance to us. Therefore, we offer health care benefits and, through our Safety Net, provide anonymous, psychological support in trying situations. But that is not all! By offering heavily discounted gym memberships and a diverse range of programs within the framework of our Sports Fund, we motivate employees to achieve their sports-related goals.
Diverse training and development options
We aim to motivate and inspire our employees and retain them in our company for the long term. In this context, the opportunities for personal development play a key role. This is why we have the Teufelberger Academy with training and upskilling programs for a wide variety of areas. Employees can also attend individual development programs as approved by their supervisors.


Mobility benefits
We also provide benefits when it comes to your mobility. Our apprentices are given tickets for public transport, and employees who work off-site are granted a voluntary travel allowance.
Teufelberger for Family
We implement several measures to help you achieve a good work-life balance. At our locations in Wels, we offer you short-notice childcare as an alternative to kindergarten and toddler groups, as well as a multi-week holiday childcare program. At our Teufelberger Academy, parents can attend informative lectures and workshops on parenting. Providing intensive support from the notification of your pregnancy to your successful return after your maternity leave is of particular importance to us.

Off to a good start! Onboarding in the Teufelberger Group 
First impressions count. So do second impressions. We want to help new employees get off to the best possible start. After all, it is entirely clear to us that three divisions and 13 business units will require some explaining, especially at the beginning. Whether it is the large number of IT systems and processes or the 1,500 colleagues to get acquainted with, we won't leave you on your own. Rather, we have a well-structured process in place that will help you get a good start at Teufelberger.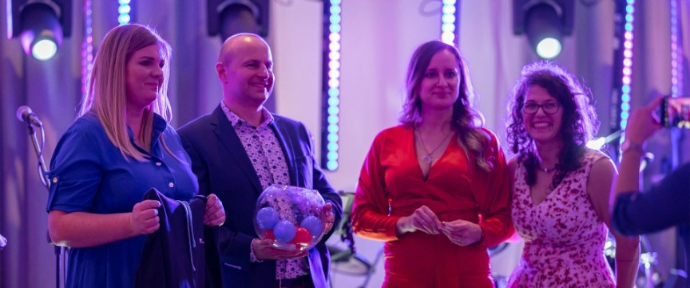 On October 5, 2022, we held a party to welcome 120 new colleagues to our team. By acquiring a Poland-based manufacturing site, the Teufelberger family has now grown to 1,500 employees.
Welcome to Teufelberger!
Our HR Team is very much looking forward to getting to know you soon. Apply for one of our vacant positions, or send us your speculative application.
Speculative applications welcome!
We have all come across them: Companies looking for employees who perfectly match the posted job profile. People with as few gaps in their resumes as possible and a whole lot of relevant job experience. High-flown requirement profiles can deter possible applicants, and this is why talent often does not get the chance to flourish. Consequently, you will not find any job titles or descriptions here, but simply the divisions and departments in which we are still looking for new colleagues.
Please do not hesitate to send us your speculative application. We look forward to getting to know you.
You prefer to apply for something more specific?
Any further questions? We will be happy to answer them.
Write to us at: humanresources@teufelberger.com