With the spLIFE program Teufelberger offers an unprecedented service on the market which will offer our partners and users a greater flexibility, a real added value and a better safety....
spLIFE is a vast program which brings together several topics, solutions and offers the following to our partners and end users:
We will gradually stop making ropes using the Slaice® method as splices, and replace it with a new method called spLIFE.
We will accredited splicers from all over the world, via the spLIFE accreditation program.
We will in collaboration with TUV Austria certify some of these partners via the spFLIFE partner program.
We will organize workshops several times a year and all over the world for our access and rigging ropes via the spLIFE workshops program.
We will regularly train and control accredited splicers via the spLIFE training program
We will release publically the splicing methods for our ropes via the spLIFE public program.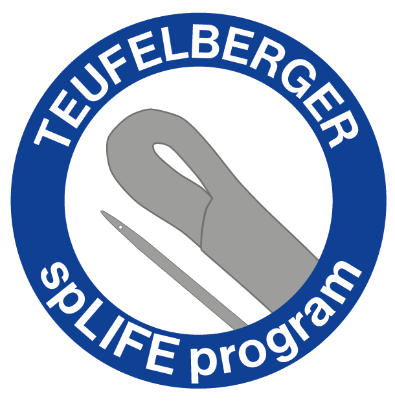 Why is Teufelberger launching the spLIFE program
We firmly believe that offering our partners to manufacture the terminations themselves has real added value. We also believe that this will offer greater flexibility to users who will be able to choose the length of their ropes and the number of terminations, and this more quickly and efficiently.

Finally, the fact of accrediting, certifying, training and rigorously controlling our certified partners and accredited splicers will be a guarantee of quality and safety for the end users.
spLIFE Training / Accreditation / Partner
Please get in touch with your market manager if you are interested by this program.
More details will follow beginning of April, but below a short summary:
Step 1 : get your splicer(s) spLIFE accredited by following a spLIFE training session (6 hours / 4 samples of Tachyon / 4 samples of drenaLINE)
Step 2 : request the TUV certification (extension of the Teufelberger TUV certification / Module B2), and get the spLIFE partner status.
Step 3 : Carry out 100% control and records. Send us samples for static and dynamic tests (first 6 month after certification , and then every 12 months)
Step 4 : Annual audit , send us records of 100% control.
Step 5 : Re-training of your splicers (Every 2 years)
spLIFE workhops
We'll be happy to organize spLIFE workshops in collaboration with our partners and give the chance to end user to learn how to splice following Teufelberger ropes:
Tachyon
drenaLINE
Sirius Bull Rope
T-Rex
Fly (coming soon)
Braided Safety Blue (coming soon)
spLIFE public
We have decided to release publically the spLIFE instructions of drenaLINE and Tachyon, to improve safety and to be certain that the splicing methods used will comply with Teufelberger quality standards.
You will find below the regularly updated list of spLIFE Master Trainers who are the only splicers authorized by Teufelberger to carry out the training for the future spLIFE accredited splicers.
| Trainer name | Language | Country |
| --- | --- | --- |
| Rénald Rémy | French | France |
| Joe Stockton | English | Sweden |
| Dominik Secklehner | German | Austria |
spLIFE Certified Partners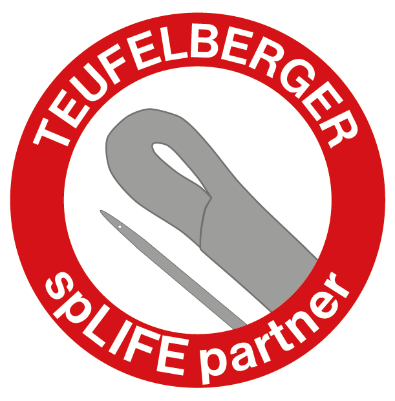 You will find below the regularly updated list of spLIFE Certified Partners. These partners have received from TUV Austria a certification according to the European Standard EN1891A, and are able to manufacture and sell spLIFE terminations on certain Teufelberger Ropes.
spLIFE certification
Company Name
Country
Website
Certification Number
Since
drenaLINE
Tachyon
Arboristbutiken Danderyd AB
Sweden

arboristbutiken.se

2047-2007-PSA17-063-E
22-07-2020
Yes
No
CONDOR Safety
Belgium

condorsafety.be

2063-2008-PSA17-063-E1
2064-2008-PSA20-014-E1
31-08-2020
Yes
Yes
Honey Brothers
Great Britain

honeybros.com

2092-2011-PSA17-063-E
2093-2011-PSA20-014
13-11-2020
Yes
Yes
VERONA VERTICALE
Italy

veronaverticale.it

2094-2011-PSA17-063-E
23-11-2020
Yes
No
CSK Landscape Service

Singapore

csklandscape.com

2101-2012-PSA17-063-E
2102-2012-PSA20-014-E
02-12-2020
Yes
Yes
spLIFE accredited splicers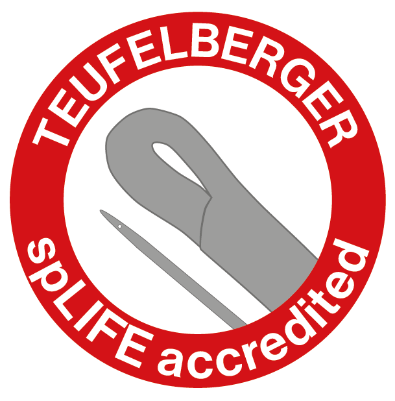 You will find below the regularly updated list of splicers that have received their spLIFE accreditation and for which Teufelberger ropes.
These splicers have received specific trainings from Teufelberger and have manufactured splices which have been tested and met Teufelberger quality standards and EN1891A European standard.
However, in no case can spLIFE accreditation be assimilated to a certification.
Teufelberger will soon launch the spLIFE partner program which will help our distributors to obtain TUV EN1891A certification on the splicing of drenaLINE and Tachyon ropes made by spLIFE accredited splicers.
spLIFE accreditation
Splicer name
Company Name
Country
Accredited since
drenaLINE
Tachyon
Lee Cole
Honey Brothers
United Kingdom
14-04-2020
Yes
Yes
Jan Hoorne
Independant
Belgium
14-04-2020
Yes
Yes
Johnny Bourfartigue
Independant
Switzerland
14-04-2020
Yes
Yes
Trevor Douglas
Treegear
Australia
14-04-2020
Yes
No
Syd Howells
Cutting Edge Arb Ltd
United Kingdom
14-04-2020
Yes
No
Dominique Champonnier
Vermeer France
France
13-08-2020
Yes
Yes
Achille Piotrowicz
GARDENFORST – S.A.I. srls
Italy
13-08-2020
Yes
Yes
Thomas Culley
treekit Ltd.
United Kingdom
13-08-2020
Yes
Yes
Marek Smerda
Arboteq
Czech Republic
13-08-2020
Yes
Yes
Romi Ahmad
CSK
Singapore
13-08-2020
Yes
Yes
Alessandro Mazza
Bambin Sementi snc
Italy
31-08-2020
Yes
No
Andrea Trautzl
Drayer
Germany
14-09-2020
Yes
No
Andrea Moriconi
Verdealberi srls
Italy
14-09-2020
Yes
No
Václav Studený
Arboteq s.r.o.
Czech Republic
14-09-2020
Yes
No
Ariel van der Leeuw
Safety Green
Netherlands
14-09-2020
Yes
No
Max Olesko
Baumklettermax
Austria
14-09-2020
Yes
No
Mateusz Sahs
Polski Arborysta
Poland
14-09-2020
Yes
No
Anna Heuer
Treetools
New Zealand
14-09-2020
Yes
No
Philip Mitchell
Gustharts
United Kingdom
14-09-2020
Yes
No
Paul Poynter
ODSK
Japan
08-09-2020
Yes
No
Luca Donatelli
Verticale
Italy
08-09-2020
Yes
No
Car Burgess
Sorbos
United Kingdom
14-09-2020
Yes
No
Andrew Philips
l'equipeur
France
30-11-2020
Yes
No
Georg Sudi
Baumpflege Spiegel
Austria
04-12-2020
Yes
Yes
What standards spLIFE splicing methods are fulfilling?
EN1891A, ANSI Z133
What are the minimum average breaking strength for drenaLINE & Tachyon spLIFE?
20 kN for drenaLINE, 18 kN for Thachyon - if the splice is properly made.
Did the spLIFE fulfill also the dynamic test of the EN 1891A standard?
Yes , with a minimum of 6 drops
Why will we stop to produce Slaice splicing and replace it with spLIFE?
Slaice was a good splicing solution, but not replicable by our partners due to the stitching pattern and the dynama webbing inside the eye. And also too bulky to fit into the ZigZag.