With the spLIFE program Teufelberger offers an unprecedented service on the market which will offer our partners and users a greater flexibility, a real added value and a better safety....
spLIFE is a vast program which brings together several topics, solutions and offers the following to our partners and end users:
We will gradually stop making ropes using the Slaice® method as splices, and replace it with a new method called spLIFE.
We will accredited splicers from all over the world, via the spLIFE accreditation program.
We will in collaboration with TUV Austria certify some of these partners via the spFLIFE partner program.
We will organize workshops several times a year and all over the world for our access and rigging ropes via the spLIFE workshops program.
We will regularly train and control accredited splicers via the spLIFE training program
We will release publically the splicing methods for our ropes via the spLIFE public program.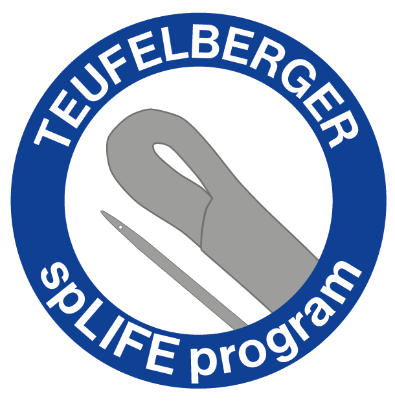 Why is Teufelberger launching the spLIFE program
We firmly believe that offering our partners to manufacture the terminations themselves has real added value. We also believe that this will offer greater flexibility to users who will be able to choose the length of their ropes and the number of terminations, and this more quickly and efficiently.

Finally, the fact of accrediting, certifying, training and rigorously controlling our certified partners and accredited splicers will be a guarantee of quality and safety for the end users.
spLIFE Training / Accreditation / Partner
Please get in touch with your market manager if you are interested by this program.
More details will follow beginning of April, but below a short summary:
Step 1 : get your splicer(s) spLIFE accredited by following a spLIFE training session (6 hours / 4 samples of Tachyon / 4 samples of drenaLINE)
Step 2 : request the TUV certification (extension of the Teufelberger TUV certification / Module B2), and get the spLIFE partner status.
Step 3 : Carry out 100% control and records. Send us samples for static and dynamic tests (first 6 month after certification , and then every 12 months)
Step 4 : Annual audit , send us records of 100% control.
Step 5 : Re-training of your splicers (Every 2 years)
spLIFE workhops
We'll be happy to organize spLIFE workshops in collaboration with our partners and give the chance to end user to learn how to splice following Teufelberger ropes:
Tachyon
drenaLINE
Sirius Bull Rope
T-Rex
Fly (coming soon)
Braided Safety Blue (coming soon)
These workshops will be conducted by the master splicing trainers accredited by Teufelberger:
Joseph Stockton (English speaking)
Rénald Rémy (French speaking)
Dominik Secklehner (German speaking)
spLIFE public
We have decided to release publically the spLIFE instructions of drenaLINE and Tachyon, to improve safety and to be certain that the splicing methods used will comply with Teufelberger quality standards.
What standards spLIFE splicing methods are fulfilling?
EN1891A, ANSI Z133

What are the minimum average breaking strength for drenaLINE & Tachyon spLIFE?
20 kN for drenaLINE, 18 kN for Thachyon - if the splice is properly made.

Did the spLIFE fulfill also the dynamic test of the EN 1891A standard?
Yes , with a minimum of 6 drops
Why will we stop to produce Slaice splicing and replace it with spLIFE?
Slaice was a good splicing solution, but not replicable by our partners due to the stitching pattern and the dynama webbing inside the eye. And also too bulky to fit into the ZigZag.