Carrying rope
STRESSLESS is the high performance carrying rope from TEUFELBERGER for material handling systems. Its most outstanding feature is its durability.
Specifications
Diameter: up to 111 mm
Construction: exactly adjusted to the application; single or multilayer as well as bright and galvanized;
Versions: without or with data line as well as with electric conductor, bright and galvanized
Certification: local certification possible on request
If you are looking for a reliable carrying rope for material handling, then STRESSLESS from TEUFELBERGER is your rope of choice.
 
Our carrying ropes can be used for standard unidirectional aerial systems for material handling. For example, the TEUFELBERGER carrying ropes are employed in the oldest material ropeway in Lukovac (Bosnia), conveying approx. 150 tons of soda per hour over a distance of 14 km. Moreover, our carrying ropes are also suited for special applications on cable cranes. They are used, for example, at the world's biggest barrage, the Baihetan Dam in China, where they move up to 7000 tons of concrete per day, withstanding extremely high loads.
 
In the field of passenger transportation, safety and reliability play a crucial role. That is why many world market leaders in this field opt for our STRESSLESS carrying ropes.
 
The basis enabling our STRESSLESS ropes to cope with the challenges they are exposed to as carrying ropes is the proven sliding guide process. For more details about this method of wire forming and the related STRESSLESS technology, please click here.
 
Our STRESSLESS rope is also available as carrying rope with integrated fiber optic bundle (STRESSLESS DATA) and with electric conductor. 
Our STRESSLESS rope is used worldwide as carrying rope in material ropeways and on cable cranes.

Please find below some of our references where STRESSLESS is used as ropeway rope:

Baihetan Dam, China (cable crane)
Customer: Hangzhou Guodian Dali Mechanical & Electical Engineering Co. Ltd.
First delivery: 2014
Carrying rope used: STRESSLESS (1+6+Z15+Z18)

Length: 4 x 1,100 m
Rope diameter: 108 mm
For the erection of the Baihetan Dam in China (expected completion in 2019), one of the world's tallest barrages, a temporary cable crane was installed. This cable crane uses carrying ropes from TEUFELBERGER. All in all, 611 tons of ropes were delivered.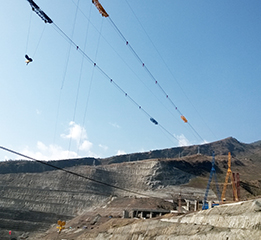 Lukovac, Bosnia (unidirectional aerial cableway)
First delivery: 1982
Customer: Rudnik/Asamer
Carrying rope used: STRESSLESS (1+6+Z15+Z18)

Length: 4 x 14,200 m
Rope diameter: 28 mm
Hauling rope used: SOLITEC®6x36WS

Length: 4 x 6,000 m
Rope diameter: 29 mm
Lukovac, Bosnia, is home to one of Europe's longest and oldest material ropeways spanning a length of 14 km. This ropeway has relied on TEUFELBERGER ropes (hauling and carrying rope) for about 40 years. The ropeway's transport capacity is about 150 tons per hour. It carries limestone from a quarry, across a reservoir, and all the way to a cement factory and a soda plant, where it is processed. The ropes withstand the extreme conditions of several climatic zones – from very humid environments above water to frequently changing weather conditions in the mountains.