Rope inspection is as critical to your safety as clipping in is in the first place. Unfortunately, often people do not treat it that way. For this reason we want to guide you through a complete rope inspection process and show you how to do it right!
In the videos, our segment manager Rob Manson explains all steps of rope inspection. The most important points are also presented next to each video. For additional information, you can also download our Safety Card, which gives you an overview of the whole process. We recommend that you keep that in your rope log for future reference.
General information
Rope inspection is very important and keeps your work safe. Therefore, it should be executed regularly.
Keep the following points in mind:
Before and after each use
Twice a year for stored rope
Record the inspection in a rope log or app (i.e. Papertrail)
Specs & Labelling
Each safety rope that leaves the TEUFELBERGER production is marked with a rope label that shows most important information about the rope and its certification.
Please note when inspecting:
Labels must be on the rope and legible
Rope must be compliant with the used hardware
Rope must fulfill required standards for your application (ANSI, EN, …)
Always check lifespan & rope log
The label of a certified safety rope (e.g. EN 1891A, NFPA, …) must contain the following information:
Certification / Standard
Name of the rope
Diameter - Manufacturer
Date of Manufacture and/or Manufacturing Lot Number
ONLY NFPA: Product ID, Minimum Breaking Strength, Types of Fibers, Elongation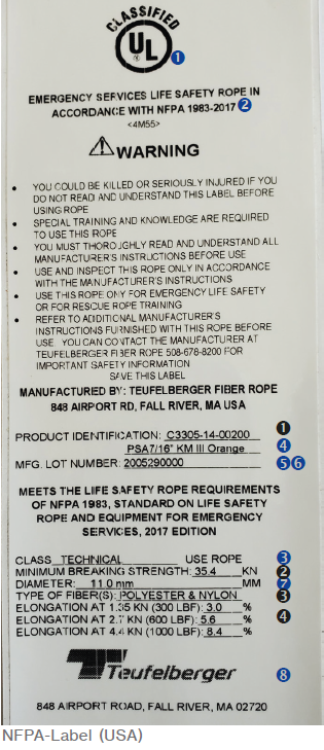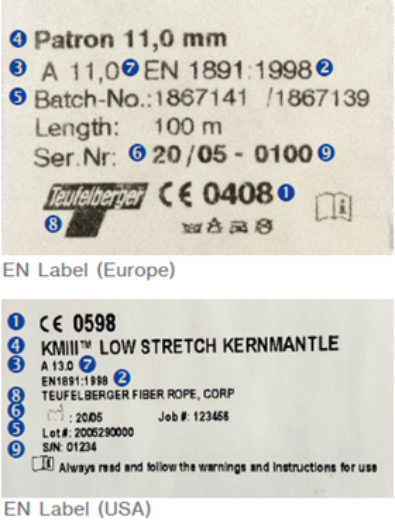 Notified body
Standard/Certification
Type/Class of certification
Name of the product
Manufacturing Lot Number
Date of Manufacture (YY/MM)
Diameter
Manufacturer
Serial number
NFPA only
Product identification number
Minimum breaking strength
Types of Fibers used
Elongation
General Condition
Check the video to see how the inspection of a rope is done correctly.
When inspecting the general condition of your rope, you are looking for small problems that might become big ones as you go.
You will need to check the rope for the following:
Knots & separations
Dirt & debris
Small cuts & tears
Fuzzing & abrasion
Weave pattern, kinking
Glazing & hard spots
Core damage (bumbs, soft spots, …)
Fabricated ends & Hardware
Many ropes come with fabricated ends like sewn terminations or spliced terminations or include special hardware.
When you check a sewn termination, you will look for:
Intact protective shrink tube
Correct threads
No rope separation
When you check your included hardware, please have a look at:
Overall condition
Cracks & abrasion
Rusted spots
Sharp edges
Functionality & moving parts
Ratings
Add hardware that was used to your rope log
Watch the full video about rope inspection here: Rope Inspection - full video - YouTube
Here you can download our "Safety Card" for your future reference. The cared guides you through the whole process of rope inspection. Keep it in your rope log or hang it in your rope storage as a useful reference.