Cambium saver
The multiANCHOR is a cambium saver with international certification, which is suited for multifunctional anchoring use.
Specifications
Lengths: 4 m, 6 m
Standards: EN 795B, ANSI Z133
Made in

Our multiANCHOR is a cambium saver with international certification. It is a tree care tool designed for use in various anchoring scenarios. Thus, the multiANCHOR can be used as basal anchor, on the one hand, while it constitutes an excellent addition to conventional cambium savers, on the other hand. When installed as a basal anchor, multiANCHOR's main benefit is that it enables a ground-based and lowerable ascent system. Therefore, if a rescue becomes necessary, the injured or incapacitated person can be lowered by a rescuer standing on the ground.
An anchor construction installed up in the tree can be configured in two possible ways:
As a Y anchor on 2 limbs, the anchor point centering itself via the ring. Here, in the case of potentially unreliable anchor points, the load is applied to 2 limbs.
As a Y anchor with 2 redundantly secured anchor points. This configuration provides the safety of a second anchor point in the event that a limb breaks.
For putting together the above systems, the following extra items are needed:
Basal anchor: Sirius Loop
Compensating anchor: ringLOOP 26
Redundant anchor: 2 x ringLOOP 34, 1 x ringLOOP 26
The multiANCHOR can be enhanced by the ringLOOP, and, of course, our Retrieval Cone L can be exchanged.
Our multiANCHOR can be applied as follows:
multiANCHOR used as basal anchor: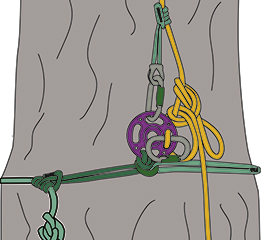 multiANCHOR used as double anchor: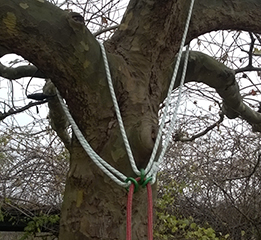 In this video, Tylor Hamel demonstrates how our multiANCHOR, our multiSAVER, and our ringLOOP are applied correctly.
https://www.youtube.com/watch?v=jPbhy22V6g0
Diameter
[mm]
Diameter
[inch]
Min. breaking strength
[daN]
Min. breaking strength
[lbf]
12
1/2
4 400
9 890
Typing errors and technical changes reserved. The data are typical values without warranty or guarantee. For questions we are always at your disposal.