Performance – you can count on!
Our goal is to manufacture high-performance strapping from plastic materials to create high-quality packaging solutions.
In order to best cater to the needs of our customers, we deliver the highest quality products, always keeping tomorrow's requirements in mind. To achieve this, we focus on continuous product development, the constant improvement of internal workflows and processes, and strict quality controls. Because our customers' success is our success.
Performance for demanding solutions
As a strong partner, we set standards and trends for the development and production of PET and PP strapping and offer our customers a wide-ranging product portfolio for worry-free solutions.
Highest standards

careful selection of raw materials
high quality of PP granules and PET flakes used
constant incoming goods inspections and in-production inspections
strict raw material and product specifications

On the pulse of time

in-house test laboratory with stateof-the-art strapping machines and handheld strapping tools
internal research and development team focused on innovation and sustainability
analytics-driven product selection process that guarantees technically and commercially optimal solutions

Strong partner

regular technical training for our customers
support in finding the right product provided by our employees who possess the relevant market insights and expertise
technical support and live analyses at your site
We specialize in the development, production, and distribution of premium quality strapping made from PP and PET. Therefore, you can be certain that strapping from TEUFELBERGER is ideally suited for your specific conditions of use. Whatever industry sector you operate in, whether in Baling, Building Supplies, Canning or Bottling, Printing, Wood and Timber, Metals, Corrugated Board, or Logistics, we have the right strapping solution for you.
Not only do we produce polyester and polypropylene strapping, but we also offer special services to customers. On the one hand, we develop your strapping for your specific application. On the other hand, we have an international team of expert engineers who will address your needs at your site. You benefit from stellar quality, customized solutions, and excellent service.
What is the difference between PP and PET-strapping?
When choosing the right strap you may ask yourself PP or PET. What is the difference? The most important factor to whether chooses PP or PET strapping is the application of the strap, how much load will be exposed on the strap during transport.
Generally valid: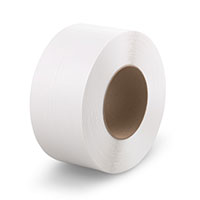 PP (polypropylene) straps are for lighter applications. In general, they are thinner and available in various colors such as white, blue or black. PP is the "classic" strapping band most people know from newspaper bundles or strapped pallets.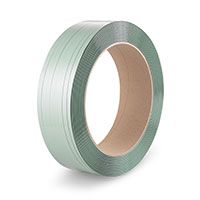 PET (polyester) straps are usually broader and have a higher breaking strength. In most cases, they are available in green and used for heavier applications such as bundling of metal pipes or building materials.
Please do not hesitate to contact our product experts to help you select the best strapping for your individual purpose and application.