Auffang-/Halte- und Sitzgurt für Maststeiger
Der VOLTA ist der Klassiker unter den Maststeiger-Gurten. Er kommt zum Einsatz beim Besteigen von Gitter-, Holz-, Fahrleitungsmasten und bei Stahl- und Industriemontagen.
Specifications
Zertifizierungen: EN 358, EN 361, EN 813
Max. Nennlast: 130 kg
Anbindepunkte: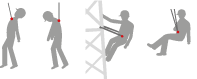 VOLTA ist auch der leichteste Arbeitsgurt seiner Klasse.

Ausführung von unserem VOLTA:
Hüft-und Beinpolster aus 3D-Mesh-Material – bester Tragekomfort und Luftzirkulation
Verstellschnallen aus Aluminium schwarz beschichtet – einfach verstellbar
45 mm Gurtband aus Polyester imprägniert – flexibel und trotzdem sehr robust
Auffangöse an der Brust aus verstärktem Textilband
Sitzgurtöse in der Mitte des Beckengurts aus verzinktem und schwarz beschichteten Stahl-D-Ring
Rückenöse aus verzinktem Stahl D-Ring
Seitliche Halteösen aus geschmiedeten Alu-Ringen
Werkzeughalteösen aus Metall am Beckengurt zur Befestigung von Werkzeugtaschen, Gurttaschen oder individueller Ausrüstung. Max. Belastbarkeit pro Ring 10 kg
Materialschlaufen aus schwarzem Kunststoffschlauch zum Transport von Zusatzmaterial und Ausrüstung. Max. Belastbarkeit pro Schlaufe 2 kg

Zubehör und Ersatzteile:
Lanyard-Storage
Rückenpolster
Schulterpolster ITS
Art. Nr.
Bezeichnung
Bein- / Hüftumfang
Weight
[g]
7330 980
VOLTA Gr. 1
52 - 78 cm / 80 - 140 cm
1 550
7330 981
VOLTA Gr. 2
52 - 88 cm / 80 - 150cm
1 600
Typing errors and technical changes reserved. The data are typical values without warranty or guarantee. For questions we are always at your disposal.