Carrying rope
STRESSLESS is the carrying rope for passenger ropeways developed by TEUFELBERGER. This carrying rope is also available with integrated optical fibers or electric conductor.
Specifications
Diameter: up to 111 mm
Construction: exactly adjusted to the application; single or multilayer as well as bright and galvanized;
Versions: with or without data line as well as with electric conductor
Certification: EN 12.385-9
You are looking for a carrying rope for your reversible aerial ropeway or your multicable ropeway and also need a rope solution for data transport? Then our STRESSLESS and/or STRESSLESS DATA ropes are the right choice for you, since you can have the fiber optics or electric conductor integrated into the very ropes.
The special rope design and state-of-the-art production processes ensure that our STRESSLESS ropes comply exactly with what you need from a carrying rope. Therefore, our STRESSLESS ropes are also largely rotation resistant under tensile stress.
The secret of STRESSLESS
STRESSLESS is based on the sliding guide process, a method tried and tested over several decades as an ideal approach for wire preforming. In the sliding guide process applied during closing, the profiled wires are guided to the closing point by means of a method that is particularly gentle on the surface. These profiled wires are produced especially for TEUFELBERGER and procured only from premium wire suppliers in the EU.
The trick in the sliding guide process is to bring the wires into exactly the helical shape that corresponds with the respective rope diameter. This guarantees that the rope behaves neutrally during handling (e.g. pulling of the rope), and that, in case of external damage, the outer wire layers remain integrated in the rope structure instead of popping out.
Due to our innovative tool making, combined with the latest findings regarding the plastic properties of profiled wires, we were able to bring this technology to perfection. Therefore, STRESSLESS features a particularly low-twist construction and production, which, first and foremost, substantially facilitates the installation of the ropes.
STRESSLESS DATA – a carrying rope that can do more
Our revolutionary STRESSLESS DATA technology integrates fiber optic bundles securely into the carrying rope. Operators of passenger ropeways, material ropeways or cable crane facilities benefit from the simple and well protected installation of data lines right inside the rope. Moreover, electric conductors can be integrated in the carrying rope to provide top terminals with power.
Your STRESSLESS DATA advantages:
Highest data security
Reduced investment costs
No maintenance costs
STRESSLESS ropes for ropeways are used worldwide as carrying ropes for reversible aerial ropeways and multicable ropeways. This steel wire rope is also used on cable cranes and in material ropeways.
Please find below some of our references where STRESSLESS ropes for ropeways are used:
Grünbergbahn ropeway / Gmunden, Austria (reversible aerial ropeway)
Year of manufacture and delivery: 2014
Carrying rope used: STRESSLESS

Length: 4 x 2,250 m
Rope diameter: 46 mm
Hauling rope used: SOLITEC®

Length: 4,240 m
Rope diameter: 28 mm
Since 2014, the new Grünbergbahn ropeway has been in operation to ascend 550 m in altitude to the recreational area near Lake Traunsee. Carried by a TEUFELBEGER STRESSLESS rope and hauled by a SOLITEC® rope, each of its two cabins offers space to 60 passengers. In its first season, it transported more than 100,000 visitors, i.e. double the expected number.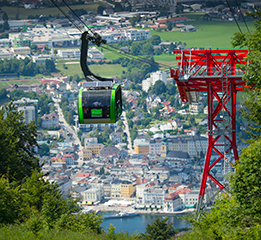 Arosa-Lenzerheide, Switzerland (reversible aerial ropeway)
Year of manufacture and delivery: 2013
Carrying rope used:
STRESSLESS DATA (with fiber optics)

Length: 4 x 1,800 m
Rope diameter: 76 mm
Hauling rope used: SOLITEC®

Length: 2 x 3,600 m
Rope diameter: 42 mm
In 2013, the two Swiss ski resorts of Arosa and Lenzerheide were linked with a spectacular reversible aerial ropeway. 1.7 km long, it connects Mount Hörnli with the Urdenfürggli Pass and uses 2 rope types made by TEUFELBERGER. This ropeway is capable of carrying up to 1,700 passengers per hour. It also continues in service through the high season in summer.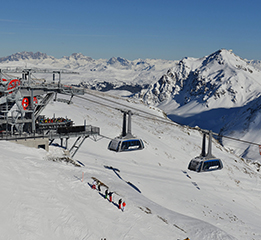 3S Eisgratbahn / Stubai Glacier, Austria (unidirectional aerial ropeway)
Year of manufacture and delivery: 2016
Carrying rope used: STRESSLESS

Length: 4 x 2,850 m and 4 x 2,780 m
Rope diameter: 54 mm
Hauling rope used: SOLITEC®

Length: 5,210 m and 4,830 m
Rope diameter: 46 mm
In the summer of 2015, construction work for the new 'Eisgratbahn', a tricable ropeway on the Stubai Glacier, began. In the fall of 2015, TEUFELBERGER delivered the first four STRESSLESS carrying ropes for this tricable ropeway. The delivery of another four STRESSLESS carrying ropes and two SOLITEC® hauling ropes followed in spring 2016. Since October 2016, this unidirectional ropeway has the capacity to carry a maximum number of 3,014 passengers per hour up to the Stubai Glacier.