Hauling rope/carrying-hauling rope
SOLITEC® is suited as hauling/carrying rope in unidirectional monocable ropeways and as hauling/carrying-hauling rope in unidirectional multicable ropeways, reversible aerial ropeways, and funicular railways.
Specifications
Diameter: 20-68 mm
Common construction: 6x36 and 6x19; standard or compacted as well as bright and galvanized
SUPERFILL®
PLASTFILL®
Certifications: ÖNORM M9534, EN 12.385-8
SOLITEC® is the flexible ropeway rope from TEUFELBERGER which is used as hauling rope or carrying-hauling rope.

The technology behind SOLITEC®
Our SOLITEC® ropes are stranded with preformed support profiles between the strands. This creates a perfectly even distribution between strands and does not allow strands to touch one another, thus permanently preventing corrosion and wire breakage and resulting in a longer service life compared with standard ropes.
The vibration-dampening trapezoidal plastic support profiles are also used across the entire splicing zone. This ensures a consistent quality without weak spots throughout the length of the rope. In addition, the support profiles slide easily on top of the surface of the plastic compound core, which helps to increase the service life of the rope.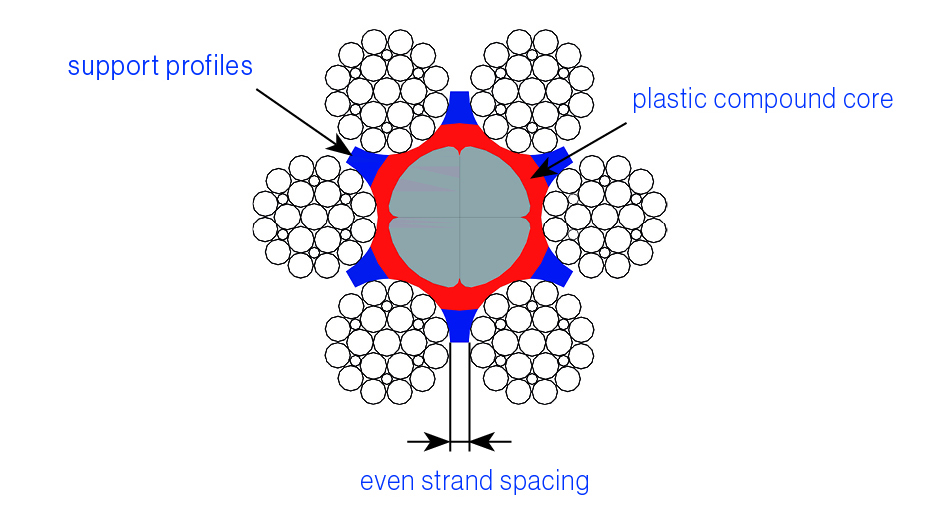 Our SOLITEC® ropes are provided with a plastic compound core (see figure). This fiber core is braided and greased and covered in a compact synthetic coat, which provides for a perfect roundness of the insert while ensuring supreme resistance to tensile forces. Therefore, a SOLITEC® insert cannot tear or break. During the stranding process, the cold strands are pressed into the plastic insert.
The precise dimensioning of the trapezoidal support profiles helps achieve an extremely high level of product consistency. The profiles fully fill all available spaces between the strands. This ensures low-vibration running characteristics and minimized noise. Furthermore, the annoying "settling" of the rope while leaving it to hang or letting it run in unloaded (empty) state is a thing of the past. Most of the initial elongation is already forestalled in the production process. However, a slight elongation of the rope that is required for the operator, e.g. for splice regeneration, will be available throughout the service life of the rope.

Your benefits achieved by the SOLITEC® technology:
Excellent longevity
Very low elongation
Perfectly round rope geometry
Breakproof plastic compound core
Permanently greased fiber core without leakage of grease
High dimensional stability under lateral pressure
For more than 2 generations, SOLITEC® ropes for ropeways have been applied in the field of passenger and material ropeways all over the world. Every year, we implement between 60 and 90 projects in this field.
Please find below some of our references where the SOLITEC® rope for ropeways is used:

TirolS / Fieberbrunn and Saalbach Hinterglemm Leogang, Austria (monocable ropeway)
Year of manufacture and delivery: 2015
Hauling rope used: SOLITEC®

Length: 5,980 m
Rope diameter: 54 mm
Since December 2015, the TirolS ropeway has been linking the Fieberbrunn ski resort to the Saalbach Hinterglemm Leogang Ski Circus. This 10-passenger monocable ropeway is pulled by a TEUFELBERGER hauling rope and brings 2,600 passengers per hour to their destinations. This ropeway link makes the Saalbach Hinterglemm Leogang Ski Circus and Fieberbrunn one of the world's biggest skiing arenas.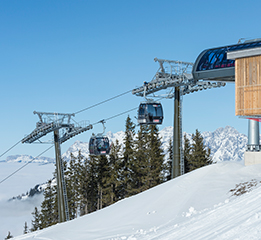 Mandalay Bay Casino / Las Vegas, USA (funicular railway)
Year of manufacture and delivery: 1999/2013
Hauling rope: SOLITEC®

Length: 1,800 m
Rope diameter: 33 mm
Since 1999, the Cable Liner of the Mandalay Bay Casino in Las Vegas has carried up to 65,000 passengers per day (it operates 12 hours a day). This 865 m long funicular railway is pulled by a TEUFELBERGER hauling rope which has already withstood 60,000 operating hours and more than one million bending cycles.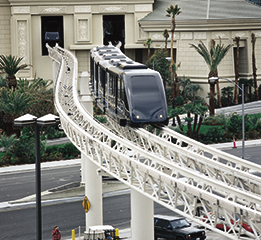 Chua Chan Pagoda, Vietnam (gondola ropeway)
Year of manufacture and delivery: 2015
Hauling rope used: SOLITEC®

Length: 2,720 m
Rope diameter: 45 mm
The Chua Chan Mountain is the second highest peak in the south of Vietnam. At an elevation of about 600 meters above sea level, there is a Buddhist temple that attracts large crowds of worshippers, year after year. Since 2015, an 8-passenger gondola ropeway, hauled by a TEUFELBERGER SOLITEC® rope, has been carrying these tourists up the mountain. Now, as many as 2,400 passengers per hour are transported up the Chua Chan.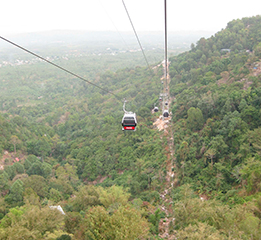 Madrisa Schaffürggli / Klosters, Switzerland (carrying-hauling rope)
Customer: Klosters Madrisa AG
Year of manufacture and delivery: 2016
Carrying-hauling rope used: SOLITEC®

Length: 3,935 m
Rope diameter: 52 mm
The Madrisa Schaffürggli ropeway is the first installation in Switzerland that is fully suitable for children. The system consists of a detachable 6-seater chairlift with weather protection hoods, seat heating, automatic locking, and sensors detecting the presence of a child among a group. The system is pulled by a SOLITEC® carrying-hauling rope from TEUFELBERGER allowing the access to be adjusted in height, thus making it suitable for children.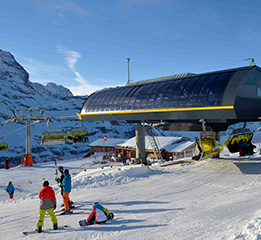 Our SOLITEC® ropes are available in various variants depending on their application: our portfolio includes non-galvanized and galvanized as well as compacted and non-compacted SOLITEC® ropes.

Hauling/carrying-hauling rope SOLITEC® 6x7 N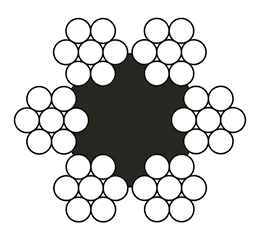 Specifications:
Variant: round strand rope in normal design, galvanized
Number of wires: 42
Braiding formula: [SOLITEC] + 6(1+6)

Hauling/carrying-hauling rope SOLITEC® 6x19 S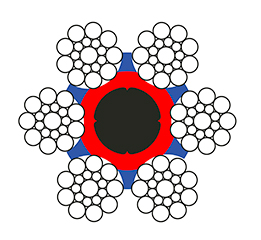 Specifications:
Variant: round strand rope in Seale design, Lang's lay, galvanized
Number of wires: 114
Braiding formula: [SOLITEC] + 6(1+9+9)

Hauling/carrying-hauling rope SOLITEC® 6x25 F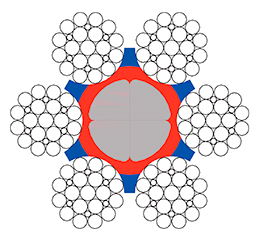 Specifications:
Variant: round strand rope in Filler design, Lang's lay, galvanized
Number of wires: 150
Braiding formula: [SOLITEC] + 6(1+6+(6)+12)

Hauling/carrying-hauling rope SOLITEC® 6x31 WS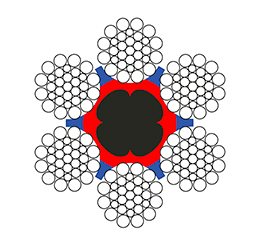 Specifications:
Variant: round strand rope in Warrington Seale design, Lang's lay, galvanized
Number of wires: 186
Braiding formula: [SOLITEC] + 6(1+6+6+6+12)

Hauling/carrying-hauling rope SOLITEC® 6x36 WS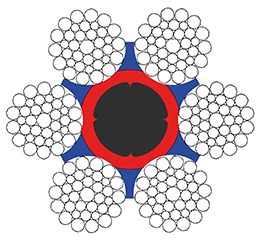 Specifications:
Variant: round strand rope in Warrington Seale design, Lang's lay, galvanized
Number of wires without center strand: 216
Number of wires with center strand: 252
Braiding formula without center strand: [SOLITEC] + 6(1+7+7+7+14)
Braiding formula with center strand: [SOLITEC] + 6(1+6+7+7+7+14)

Hauling/carrying-hauling rope SOLITEC® 6x41 WS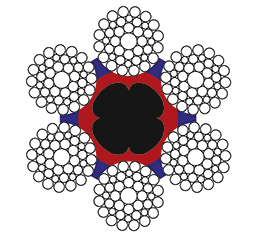 Specifications:
Variant: round strand rope in Warrington Seale design, Lang's lay, galvanized
Number of wires without center strand: 246
Number of wires with center strand: 282
Braiding formula without center strand: [SOLITEC] + 6(1+8+8+8+16)
Braiding formula with center strand: [SOLITEC] + 6(1+6+8+8+8+16)

Hauling/carrying-hauling rope SOLITEC® 6x19 S SUPERFILL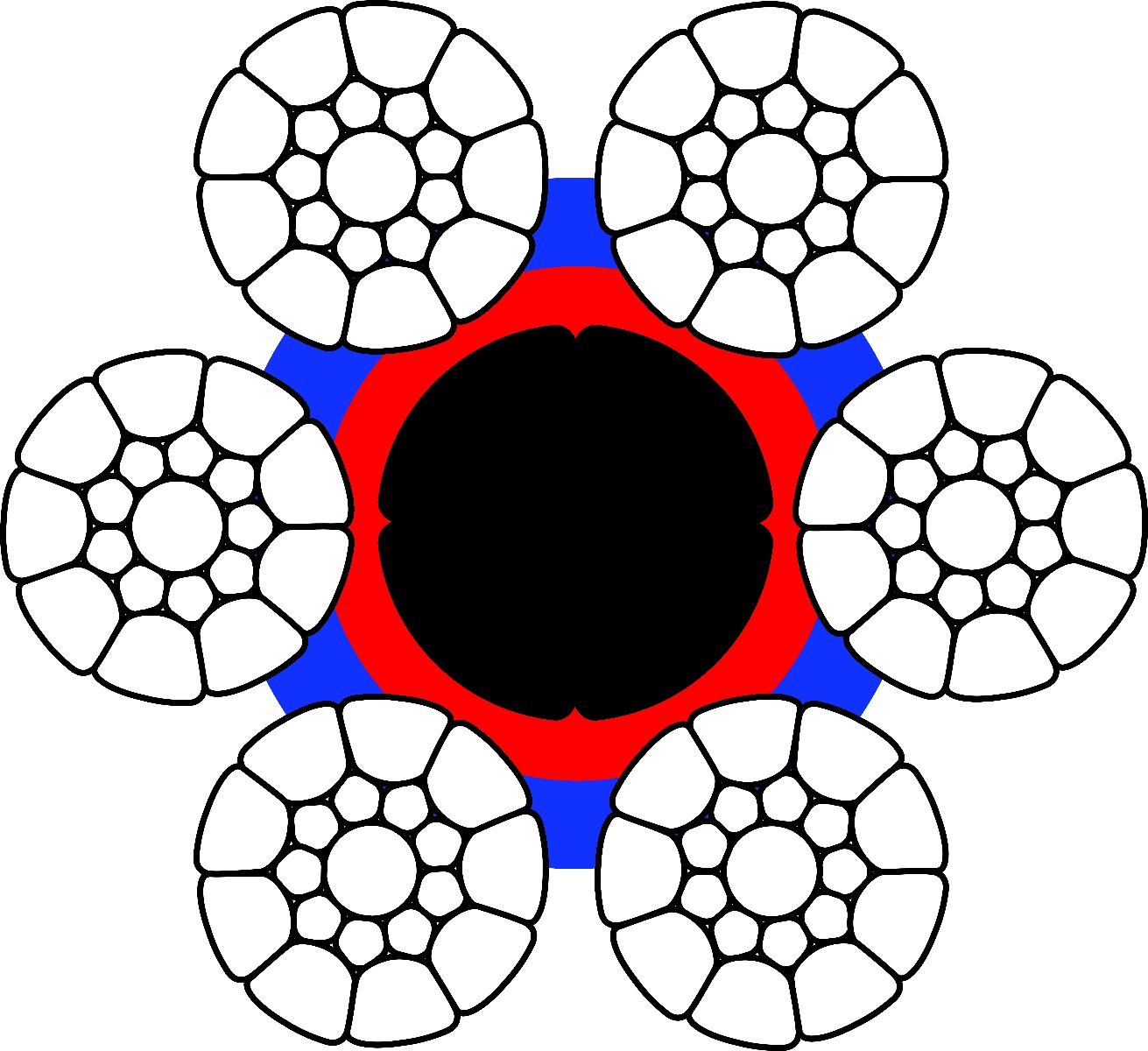 Specifications:
Variant: compacted round strand rope in Seale design, Lang's lay, galvanized
Number of wires: 114
Braiding formula: [SOLITEC]+ (1+9+9)

Hauling/carrying-hauling rope SOLITEC® 6x25 F SUPERFILL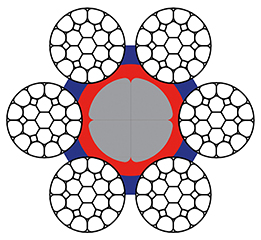 Specifications:
Variant: compacted round strand rope in Filler design, Lang's lay, galvanized
Number of wires: 150
Braiding formula: [SOLITEC] + 6(1+6+(6)+12)

Hauling/carrying-hauling rope SOLITEC® 6x36 WS SUPERFILL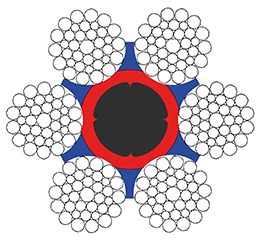 Specifications:
Variant: compacted round strand rope in Warrington Seale design, Lang's lay, galvanized
Number of wires: 216
Braiding formula: [SOLITEC] + (1+7+7+7+14)

Hauling/carrying-hauling rope SOLITEC® 6x41 WS SUPERFILL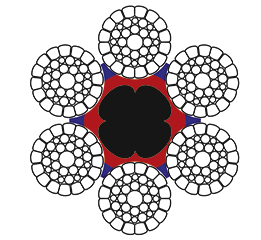 Variant: compacted round strand rope in Warrington Seale design, Lang's lay, galvanized
Number of wires without center strand: 246
Number of wires with center strand: 282
Braiding formula without center strand: [SOLITEC] + 6(1+8+8+8+16
Braiding formula with center strand: [SOLITEC] + 6(1+6+8+8+8+16)

Hauling/carrying-hauling rope SOLITEC® 8x19 S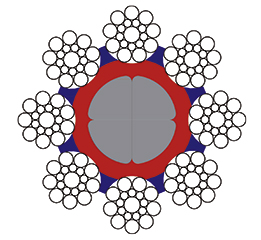 Specifications:
Variant: round strand rope in Seale design, Lang's lay, galvanized
Number of wires: 152
Braiding formula: [SOLITEC] + 8 (1+9+9)

Hauling/carrying-hauling rope SOLITEC® 8x19 S SUPERFILL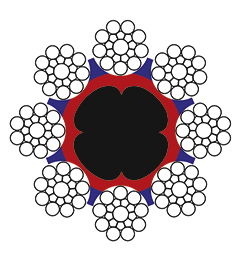 Specifications:
Variant: compacted round strand rope in Seale design, Lang's lay, galvanized
Number of wires: 152
Braiding formula: [SOLITEC] + 8 (1+9+9)