Hauling rope/carrying-hauling rope
SOLITEC® Max7, with 7 strands that sit, this rope causes 38% less vibration and is suitable as a haul rope/conveyor rope for multiple-circuit ropeways, reversible aerial tramways and funiculars.
Specifications
Diameter: 20-68 mm
SUPERFILL®
PLASTFILL®
Certification: ÖNORM M9534, EN 12.385-8
SOLITEC® Max7 is a 7-strand rope, that is specifically designed for heavy duty applications, such as urban transport, all year tourism ropeways and alpine applications with many bending cycles. The 7-strand construction has been further improved by an additional development with the technology of SOLITEC® profile supports.
Seven strands describe a "rounder" circle than six do. The distances between the strands are smaller and less deep and are kept in a uniform shape by the use of synthetic plastic profiles. The synthetic profiles also prevent fretting corrosion from strand contact.
Technically speaking, the reduced excitation amplitude of the strands introduces less energy into the web system, reducing vibration intensity by up to 38%. This translates into smoother running and less noise. The mathematically modeled vibration analysis by RICAM and MathConsult confirms other, noticeable benefits for ropeway operators or OEMs. For example, the risk of experiencing difficulties on the installation with the Solitec® Max7 from the "Vibration" section is significantly reduced because the scatter of results between optimized and "worst case" lay length is significantly lower than with a 6-strand rope.
Using the SOLITEC® Max7 gives you the following benefits:
38 % less vibration
Significantly improved comfort due to
- High running smoothness (tactile)
- Hardly perceptible operating noise
Longer service intervals
- Better bending fatigue behavior due to smaller strands
- Reduced stress and wear in the splice area
Positive experience in the field with 7 strands
Especially suitable for heavy duty applications
Vibration analysis by RICAM and Mathconsult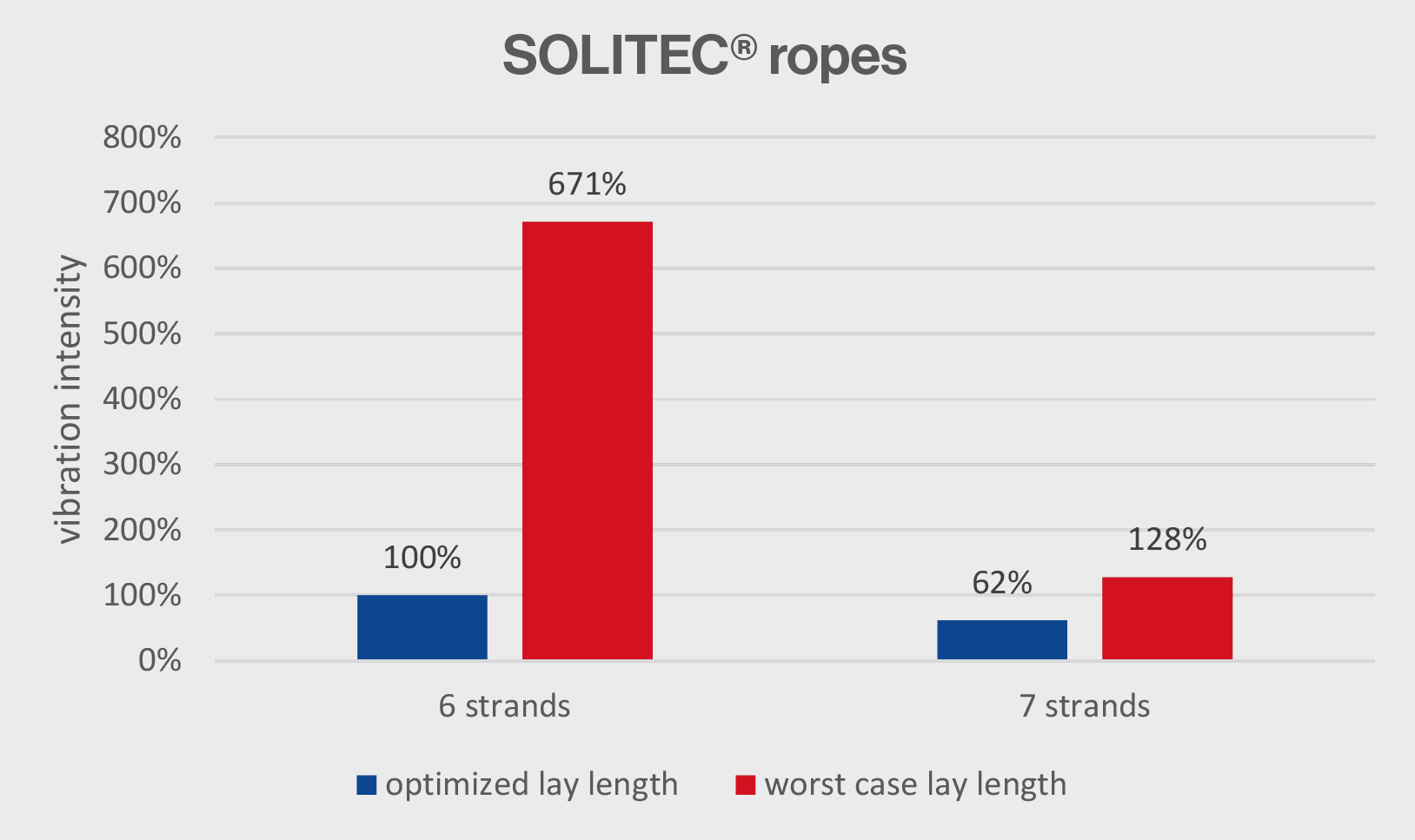 Pisamover / Pisa, Italien
Delivery: 2019
Hauling Rope: SOLITEC

®

Max7

Length: 3.900 m
Rope diameter: 30 mm
The "Pisamover" is in operation 365 days a year. This is an extreme load not only for the 7-strand SOLITEC® Max7 from Teufelberger-Redaelli; but also for the ropeway itself. The challenge was to coordinate both in such a way that the load on rope and ropeway is as low as possible.