Auffanggurt / Haltegurt / Sitzgurt für Klettergärten
Der SAFETY ist ein Gurt für Hochseilgärten und Waldseilparks. Er wird auch auf Seilschaukeln und an Flying Fox verwendet. Jeder Betreiber, dem die Sicherheit seiner Gäste am wichtigsten ist, wird den SAFETY wählen!
Specifications
Zertifizierungen: EN 358, EN 361, EN 813
Max. Nennlast: 130kg
Anbindepunkte: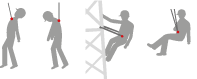 Der SAFETY ist die richtige Wahl, wenn es um Sicherheit in Freizeitparks, wie Hochseilgärten und Waldseilparks geht. Im Vordergrund der Kletterparks stehen natürlich der Spaß am Klettern und das Überwinden von Hindernissen. Dabei sollte die Sicherung beim Klettern aber nicht zu kurz kommen. Der SAFETY bietet die perfekte Lösung für Sicherheit und Bewegungsfreiheit in Klettergärten.
Ausführung des SAFETY:
Auffangöse an der Brust aus verstärktem Textilband– sehr leicht und flexibel
Auffangöse am Rücken aus verzinktem Stahl-D-Ring – sehr robust
Seitliche Halteösen aus geschmiedeten Alu-Ringen
Sitzgurtösen in der Mitte des Beckengurts aus verzinkten und schwarz beschichteten Stahl-D-Ringen (2 Ringe übereinander)
Eingebauter Alu-HMS-Karabiner mit Schraub-Verschluss
Verstellschnallen aus Aluminium schwarz beschichtet – einfache Verstellbarkeit
45mm Gurtband aus Polyester imprägniert – flexibel und trotzdem sehr robust
Hüft-und Beinpolster aus 3-D-Mesh-Material – bester Tragekomfort und Luftzirkulation
Zubehör und Ersatzteile:
Lanyard-Storage
Rückenpolster
Schulterpolster ITS
| | Art. Nr. | Bezeichnung | Bein- / Hüftumfang | Gewicht |
| --- | --- | --- | --- | --- |
| | 7 330 979 | Safety | 52 – 78 cm / 80 – 140 cm | 1450 g |
Typing errors and technical changes reserved. The data are typical values without warranty or guarantee. For questions we are always at your disposal.