GET APP HIGH! Inspection Management in your pocket.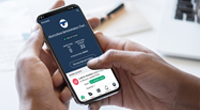 Our innovative inspection software supports TEUFELBERGER customers worldwide!
Transform the way you manage your PPE equipment. Inspect, control your inventory, add new products in seconds with Papertrail's digital inspection management platform.
Download NOW:
Just for you:
Experience the easy way of PPE management and many unique benefits for TEUFELBERGER customers.
Inspection checklists

Equipment care guidelines

Fast product entry via scan or search (coming soon)

All TEUFELBERGER products available in Papertrail's PPE Directory

12 month's subscription free for TEUFELBERGER customers

Useable for all brands
Download NOW:

Your benefits compared to conventional Safety Management Systems:
Time saving:No more paper forms or manual spreadsheets, Papertrail lets you conduct your inspections and record the data in seconds.
Simple compliance: With a full inspection history for every piece of equipment, Papertrail makes proving compliance with safety regulations simple.
Mobile efficiency: Papertrail lets you and your team spend more time in the field, and less in the office. Conduct your inspections on the move, and manage your inspection programme from wherever you are.
Unique Benefits for TEUFELBERGER customers: Inspection checklists, equipment care guides, fast TEUFELBERGER product entry, and many more
| | | | |
| --- | --- | --- | --- |
| Feature | Paper Records | Spreadsheet | papertrail |
| Fireproof | NO | NO | YES |
| Waterproof | NO | NO | YES |
| Easy to use | NO | YES | YES |
| Environmentally friendly | NO | YES | YES |
| Mobile | YES | NO | YES |
| 100% Secure | NO | NO | YES |
| 100% Accountability | NO | NO | YES |
| Never miss an inspection | NO | NO | YES |
| Equipment history at a gance | NO | NO | YES |
| Designed for outdoors | NO | NO | YES |
| Expert training and support | NO | NO | YES |
Download NOW: