TYCOON® polyester strapping
Storage and transport can affect your goods in various ways. Vibrations, temperature differences, and sunlight may have a negative impact on pallet strapping material and cause packaging to become unstable. In order to cope with such challenges, we have developed a vast portfolio of different polyester straps. We offer you all of our standard PET straps in widths from 9 to 32 mm. Being the biggest system independent manufacturer of strapping, we help you find the ideal solution for your intended use. We also provide custom-tailored solutions beyond the usual standards.
TYCOON® PET strapping
With their small manufacturing tolerances, consistent high quality, and high breaking strength, our TYCOON® PET strapping ensures smooth processes on both fully automatic strapping machines and hand tools. In many applications, our polyester strapping is suited to take the place of steel strapping and offers the following advantages over conventional steel strapping:
protects the health and safety of your staff – no risk of injuries caused by the strapping
easier & safer to handle
bucklefree closure
no damaging of packaged goods or discoloration caused by rust
higher remaining strap tension

It's time for a new green!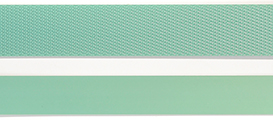 Because of the great success of our new TYCOON® XTend product line, we decided to take a few already proven characteristics (e.g., improved splitting behavior) of our XTend products and incorporate them also into our conventional polyester strapping portfolio. For this reason, the formulas are modified to contain our patented additive, which will improve the characteristics of the strapping. Furthermore, also the color of our strapping will change to our new opaque green (OGN), symbolizing our new and improved quality.

TYCOON® polyester strapping offers a number of key advantages
Low maintenance and trouble-free strapping processes
Reliable protection of your packaged goods
Economically and technically the best solution for your strapping purpose
Smart supply management (from order placement to delivery)

For all standard strapping machines
TYCOON® polyester strapping is suited for use on all standard strapping machines (fully automatic strapping machines and hand tools) from manufacturers such as Columbia, Fromm, Itatools, Messersi, Orgapack, Strapex, Signode®, CMR, Cyklop, Delonca, Itipack, Mosca, OMS, Reisopack, Sander, SMB, Titan, or Samuel.