Strap to Strap Material Collection
Give used straps a new live
Used strapping is often difficult to dispose of in everyday life. They take up a lot of volume, tie up valuable storage space and in some cases also pose an increased risk of accidents as a tripping hazard. In addition, many of the disposed straps end up in incineration instead of a proper recycling process. Strap to strap material collection changes all that.
Strap to Strap: think in circles
Used strapping is collected downsized as strap snippets and, after cleaning and reprocessing, is made into new strapping.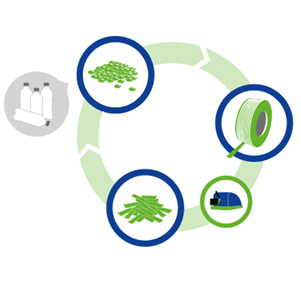 In the case of PET strapping, this creates a closed loop. rPET from PET beverage bottles are processed into PET strapping, used in the industries, collected, shredded, reprocessed into new PET flakes.The advantages are obvious: recycled material is obtained from bottles and kept in the cycle by reprocessing the strapping.
In the case of PP strapping, the process is more intensive. After collection, cleaning and shredding, rPP granules are produced from the PP shreds. This serves as the basis for further processing. The challenges lie more in the economic collection. But we are also happy to take on this challenge - together with our partners!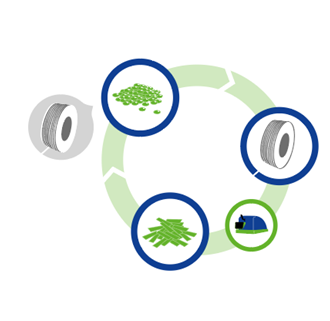 Advantages through Strap to Strap material collection
Safety
An orderly and clean workplace increases occupational safety. Tripping hazards are a thing of the past

Performance
Volume of collected strapping is reduced. This results in storage and cost savings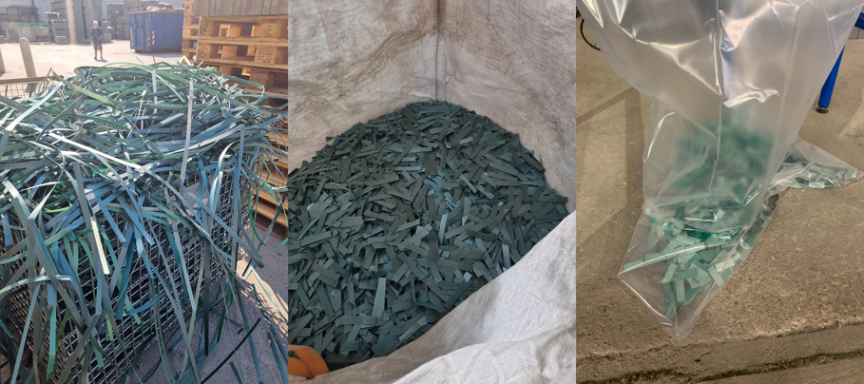 Sustainability
Recycling concept and saving of raw materials. By collecting used strapping, the use of new, additional material is reduced. This leads to a significant CO2 reduction in the complete supply chain.
What is needed for a Strap to Strap Material Collection?
Strap to strap material collection is a joint responsibility. (End) customer, retailer, manufacturer and recycler work together to reduce waste and recycle raw materials.
Collection:


The straps are shredded where they occur, i.e. directly at the customer's premises. For this purpose, a shredder is required which shortens the straps to 8 - 12mm. This reduction leads to a space-saving and easier handling of the straps which are then collected in BigBags.

Transport:


As soon as a minimum quantity is reached, transport is organized by Teufelberger. The transport is carried out by certified transport companies directly to the recycling partner company.

Cleaning & Procesing:


The partner company cleans and prepares the delivered strapping pieces for further use.

Re-Use:
Processing into new straps. 
Advantages of a strap chopper
Sustainable return transport. The collected material can be separated by type and shredded into 10-12 mm strap pieces
Uncomplicated, easy storage and transport in BigBags possible
Easy handling and long service life of the machine
Circular economy in the strapping sector
Recyclable design: the product is designed to be recyclable. Mono materials are preferred over composites, and the different packaging materials are clearly visible and can be easily separated.
Efficient recycling: in addition to the technical possibility of recycling after use, it is important that an efficient material recycling system is in place. As an example, consider strap to strap material collection.
Upcycling VS Downcycling: the idea of a closed loop system is that the material can be reused for the same product rather than downgrading it to an inferior product. Currently, strapping often ends up in thermal disposal.
Use of recycled material: The recovered material is used to produce strapping with recycled content.