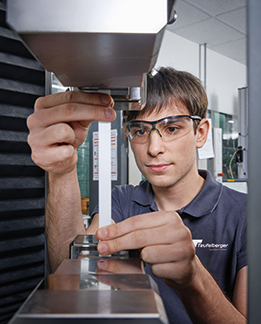 As a premium supplier of polypropylene and polyester strapping, it is our paramount goal to always offer you a consistently high quality. This is the only way to guarantee smooth and worryfree strapping processes in your production lines.


During the strategic selection of our raw material suppliers, we already attach the utmost importance to ensuring that what we get is polypropylene granules and polyester flakes of flawless quality. The qualification of new suppliers takes place in several steps. Starting with a few initial samples and through to large-scale testing in our manufacturing department, new materials are subjected to thorough analyses and tests based on our own raw material specifications. We also conduct regular audits at strategically important partners to ensure sustainable quality management.


Even if a raw material supplier is on our list of qualified suppliers, we will still subject 100% of his deliveries of PP and PET materials to in-house testing. Only once such materials have passed these tests will they be greenlighted for use in our manufacturing facilities. In order to meet our small manufacturing tolerances, regular checks of random samples according to the two-man rule will already be conducted during the manufacturing process. Ultimately, final tests and inspections of the finished products will be carried out by our 24/7 quality assurance team.