Connection systems have become a pivotal technology for cost-efficient multi-material lightweight engineering. They are the only way to ensure that "the right lightweight material can be used in the right place".
The basis for the success of hybrid lightweighting systems is easy to explain: namely, the implementation of highly load-bearing, safe, and easy-to-qualify connections. And all that at the interface between fiber reinforced plastics having direction-dependent material properties and metals having non-direction-dependent material properties.
This where TEUFELBERGER, with its T-IGEL® technology, sets new trends in connection technologies.
In a fully automated manufacturing process, a regular, dense structure of high-strength pins is applied to a basic metallic body (steel, aluminum, titanium) in conformity with load distribution in the component.
This regular pin structure is integrated into a dry braided or filament wound structure in our factory and consolidated into a hybrid composite component by means of RTM.
T-IGEL® can also be integrated into the wet filament winding process and, under certain conditions, into a pre-impregnated laminate structure by means of prepregs. Due to the high reliability and firmness of this connection and its excellent failure predictability, T-IGEL® is particularly well suited to transmit forces into structural fiber composite components.
TEUFELBERGER is your competent go-to partner for the development and production of carbon fiber reinforced structural components and the necessary connection technology.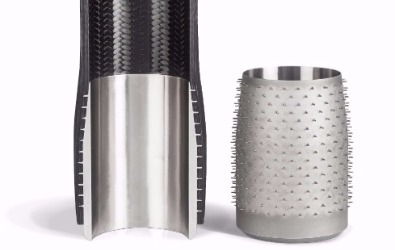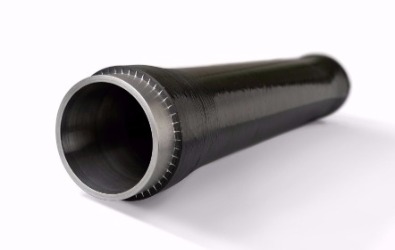 The advantages of TEUFELBERGER's T-Igel® technology at a glance
Adhesive bonding (via the RTM epoxy resin and special primer coatings on the metal) combined with form fit (between pins and fibers) helps achieve connection strengths of up to 60N/mm2 and high safety factors.
Structurally quantifiable connection due to known scaling of shear strengths of the individual pins. Virtually independent of ambient conditions.
This makes shorter connection lengths and thus simpler designs possible.
The fully automated process used to apply the pins works with stainless steels and aluminum and permits a flexible pin geometry (thickness, length, shape). Hence, this connection can be attuned exactly to the load specification.
Also, because of its great ease of integration into the fiber composite, it is considerably less expensive than structural adhesive bonding.
Predictable and quasi-plastic failure behavior.
T-Igel® was developed by TEUFELBERGER especially for hollow-closed flange cross sections (circles, polygons) and has been patented for integration with braiding and winding processes. Areas of application for this one-of-a-kind connection technology can be found in all segments of lightweight engineering. Depending on the field of use, T-Igel is designed with internal or external threads, as tab, eye, plate, fork finger (etc.).
T-Igel® flanges for CFRP drive shafts
T-Igel® tabs and fork connections for CFRP tension/compression struts (tie rods)
T-Igel® plates for CFRP crossbeams
T-Igel® flanges with internal and external threads for CFRP tubes