Passives Rettungsset FAVORIT
Rettungsset zum Retten aus dem Auffanggurt
Rettungsset zum Retten einer verunfallten Person aus dem Auffanggurt mit der passiven Arbeitsweise
Das passive Rettungsset wird zur Rettung verunfallter Personen aus dem Auffanggurt verwendet. Die Rettung erfolgt passiv. Das heißt, der Retter führt die Rettung von einem gesichert Standort aus und seilt den Verunfallten ab. Mit dem Abseil-Rettungsgerät ABS 3a WH wird der Verunfallte angehoben, dann aus seinem belasteten Auffangsystem ausgehängt und mit der automatischen Abseilfunktion des ABS 3aWH abgelassen. Zur Übernahme des Verunfallten kann das Seil des Rettungsgerätes direkt mit einer Gurtöse verbunden werden oder auch mit den beigepackten Rettungsklemmen am Auffangsystem angeschlossen werden. Die Rettungsklemmen können auf Drahtseilen oder Textilbänder unserer Höhensicherungsgeräte aufgesetzt werden. Das Rettungsset kann auch in einem Vakuum-Koffer verpackt werden. Dann entfällt die jährliche Prüfung durch den Hersteller. Der Sachkundige vor Ort überprüft nur die Verpackung!
Es wird zur Rettung verunfallter Personen auf höher gelegenen Arbeitsplätzen verwendet, wo eine Abseilung gerade nach unten möglich ist.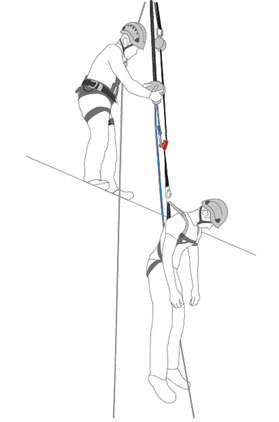 | | Art. Nr. | Bezeichnung | Gewicht |
| --- | --- | --- | --- |
| | 7 331 307 | Passives Rettungsset FAVORIT | 3,50 kg |
| | 7 333 900 | Seil für ABS 3aWH | 0,07 kg |
| | 7 333 997 | VAKUUM 50 - Vakuumverpackung | 3,00 kg |
Typing errors and technical changes reserved. The data are typical values without warranty or guarantee. For questions we are always at your disposal.