Evakuierungsset von hochgelegenen Arbeitsplätzen
Das Notabseil-Set wird zum aktiven Abseilen in einer Notsituation verwendet
Das Notabseilset dient als Rettungssystem zur Selbstrettung. Der Benutzer kann sich selbst
von einem höher gelegenen Arbeitsplatz evakuieren. Das Seil wird am Anschlagpunkt mit einem Karabiner eingehängt. Die Rettungsschlaufe RescLoop wird angelegt und mit dem Abseilgerät DSD+ verbunden. Dann sich kann der Benutzer von seinem Arbeitsplatz selbst abseilen. Es wird für Evakuierungen von Hochregalstapler, Brückenkräne, Heugreifer,… verwendet.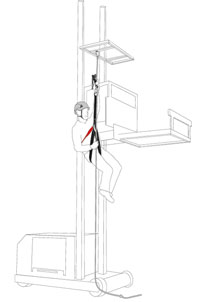 Art. Nr.
Bezeichnung
Gewicht
7 331 309
Notabseilset 10m
3,00 kg
7 331 311
Notabseilset 15m
3,30 kg
Typing errors and technical changes reserved. The data are typical values without warranty or guarantee. For questions we are always at your disposal.