We are looking for a plastics engineering apprentice in Wels for 2017/2018.

Apprenticeship: 4 years
Main training areas:
Plastics engineering is one of the most innovative branches Upper Austria's industries have to offer. Plastics are the materials of the future. As a plastics engineering apprentice, you will get to know all departments (such as Quality Assurance, Research & Development, etc.) dealing with plastics engineering. In this manner, you will not only become acquainted with plastics engineering but also with all associated areas and subjects.
Your main tasks will include:
Familiarizing yourself with the extrusion process
Handling and continuous examination of final products
Starting up and adjusting extrusion machinery
Insights into research and development work concerning new and improved products
Assisting in maintenance and repair work as well as operating and troubleshooting production facilities
Industrial processing and treatment of plastics
Apart from your main responsibilities, you will prepare lectures and papers as part of a team together with other plastics engineering apprentices and make this information available to your co-workers. Your apprenticeship training will also include an apprentice exchange program that will introduce you to our partner companies where you can study and master technologies such as injection molding, laser printing, compounding, etc.
Vocational School:
10 weeks per training year in Steyr.
Our apprentices can also use the local boarding home run by the vocational school; all related costs will be borne by TEUFELBERGER.
Your Contact:
Barbara Riess
Phone +43 7242-413 412
Apply online:
"Apply for this apprenticeship career right now!"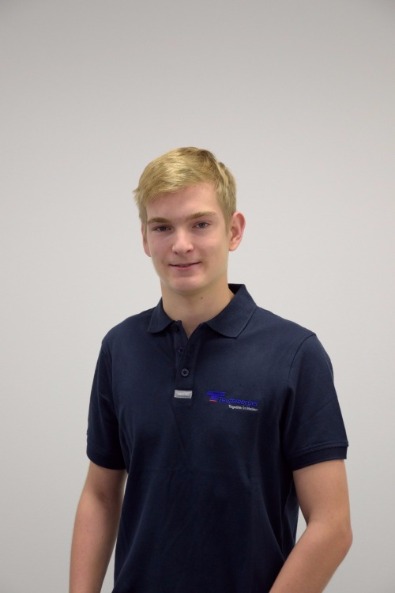 Moritz
Plastics engineer, 2nd training year
"I've always known that I wanted to do an apprenticeship because I enjoyed lending a hand even as a kid. I've checked out plenty of companies but after having taken part in some of TEUFELBERGER's tryout days, I realized that I wanted to get my professional start here. Their working atmosphere is very friendly and I just love coming here".
Lukas
Plastics engineer, 4th training year
"I was certain that training as a plastics engineer would get me prepared for a successful future career and that TEUFELBERGER would provide me with a secure job".